Optomap Retinal Imaging
Learn how Optomap Retinal Imaging can help you!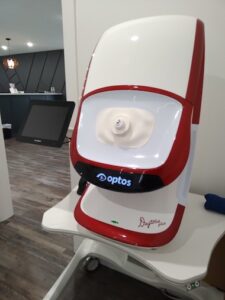 Annual eye exams are vital to maintaining your vision and overall health. Divine Family Eye Care is pleased to offer the Optomap® as an important part of our eye exams.  Optomap produces a high-resolution 200° image in order to ascertain the health of your retina. This is much wider than a traditional 45° image.
These images allow Dr. Divine to view structures inside the eye and it gives her the opportunity to review the findings with you and compare images year to year for changes. Some of the common problems we look for are glaucoma, macular degeneration, diabetic or hypertensive retinopathy, retinal holes, cancer, and much more!
Optomap® Retinal Exam provides:
A scan to show a healthy eye or detect disease

A view of the retina giving us a more detailed view that cannot be achieved by other means

The opportunity for you to view and discuss the Optomap® image of your eye with our doctors during your exam

A permanent record for your file, which allows us to view your images each year to look for changes
The Optomap® Retinal Exam is fast, easy, and comfortable for all ages. To have the exam, you simply look into the device one eye at a time and you will see a comfortable flash of light to let you know the image of your retina has been taken.
Request an appointment at Divine Family Eye Care today!